Sunday, September 27, 2015
Monday, September 21, 2015
A lot of people have asked me my route in Asia, and while most of it isn't set in stone yet, we have an idea. I didn't even include cities at all except in China. We're starting in Beijing, and then we ended up having a few extra days we didn't know we'd have, so we're going to one of the busiest cities in China during one of the busiest times of the year - Shanghai during Golden Week. We might leave early. Then we're making our way west to Huangshan to hike in the Yellow Mountains.
Then it's on to Zhangjiajie and the National Forest or the same name.
Our last official stop in China is Chengdu, which is kind of a hub for some day trips, including the Giant Buddha.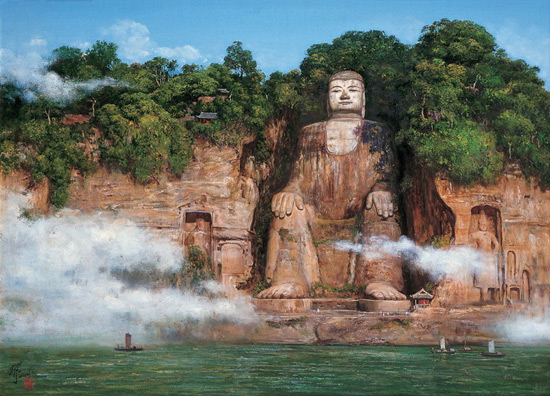 Then we're going to try to go to Tibet. We'll get back to you on that one.
After about a month in China/Tibet, we'll arrive in Nepal for our first workaway host site on a farm a couple hours outside of Kathmandu. Our plans in Nepal can be flexible but we'll probably stay around 3 weeks.
Then we don't have specific plans yet, but we want to travel and hopefully volunteer through Bhutan, Bangladesh and Myanmar/Burma on our way to Thailand. There we'll be spending time in both the north and the south, with the idea being that we can take trips to Cambodia and Laos and probably Vietnam as well on the weekends when we won't have work. Then we intend to finish in the Phillipines.
I could only fit so many locations on this map, but you get the idea. First west, then back east.
Sunday, September 20, 2015
A lot has happened since I last blogged. I had big intentions for blog posts, but life just kept happening. I was going to write about going to South Carolina for my sister Laura's graduation from Furman University, quitting (kinda) my job, going to Germany for a month, all the visitors I've had since I got back, how my marathon training was going (hint: not great) and finally, the marathon. But here I am.
And I'm leaving for China in one week. That's right. I'm traveling with my friend/roommate/ex-coworker Jordan through Southeast Asia for about 5-6 months. And we leave on Sunday! I'm excited and nervous and stressed out because of all the packing I still need to do and things I need to take care of before I leave and trying to make plans for one of the biggest weeks for Chinese tourists in China while not knowing the language and doing everything over the internet. After we make our way through China for the first few weeks, we will have more opportunities to volunteer in exchange for room and board so we won't have to spend as much money. I'm hoping to keep blogging as much as possible, but I'll also be posting pictures on my instagram
https://instagram.com/elizabeth_lt/
. I won't have a working phone so I'll only be able to use the internet when I can find wifi. And I'm still debating taking my laptop so it might be difficult to write long posts.
There are still a lot of unknowns for this trip but it's something I've been wanting to do for a long time and I decided there won't be a better time in my life! Just for reading this, here are a bunch of pictures from the last 5 months of my life.
Laura's graduation!
Tough Mudder in Germany

finally saw Neuschwanstein!
Hiking in the German Alps
Outing with the twins and Rachel
Friends from Hannover!
Twinsies on top of the Rathaus
Laura came to Seattle!
and so did my parents
Hanging with baby Max and his kitten friend. His mama is my friend Claire from high school who came to visit me and run Beat the Blerch!
The full marathon start. I'm in the blue shirt.
and the finish. I wasn't so happy here